A POEM PRESENTED TO THE THYGE FAMILY ON THE
OCCASION OF INOGURATING THYGE MEMORIAL HALL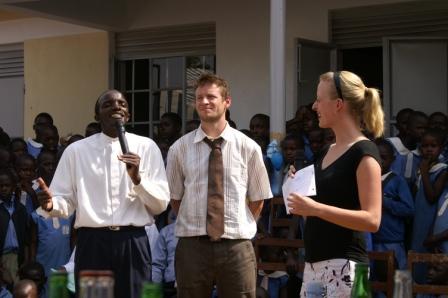 Lærer Nelson sammen med Simon og Christine.
Like the riddle goes "...sounds loudest in death than the
living.."
Not any thing else But the African drum, made from the skin
of a cow unfolds the riddle
Like the. African riddle, so is Thyge
Sounding louder in death than in life.
Where? In Kiira community, Danish embassy and Denmark
Humble and quiet you came, to the river you went
Whose local name same as Kiira, that ended your life
But now so loud bringing whole family
With a spotted appearance was I, paint reaping off my walls
Other buildings came, but with no uniformity for me.
And to my customers, of course the pupils, no bigger place had I for
a public address, come rain or sunshine
But come Thyge hall! Change came my way
The construction began. Of course a new member in my family
Yet with him, came painting, giving me a new face and looks.
Here came uniformity, taking my spotted appearance.
What a joy! Attracting my admirers.
A joy that shall be to the school and community
You will always be remembered
By G. C. D. Nelson 16th February 2007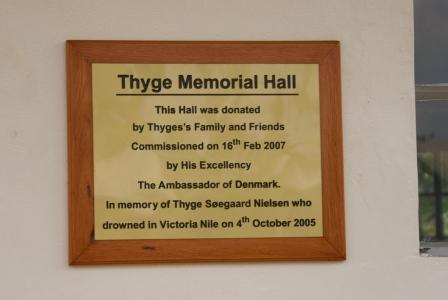 Mindepladen ved Hall'en.