Chairman's Report to Parents Teachers Association (PTA) Annual General Meeting
On 30th March 2007 in the School Thyge Memorial Hall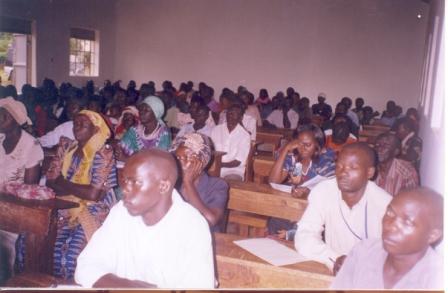 Section of Parents Attending PTA Annual General Meeting

Welcome Remark
On behalf of the entire PTA executive, I wish to welcome you all to this PTA Annual General Meeting. This meeting was meant to take place at the end of last year, but due to administrative issues, it was not possible until today, I thank you for being patient.
Commendation
School Management Committee (SMC)
The relationship between the School Management Committee and the PTA continues to be good. I wish to thank all the members of both bodies
Local Authority
I wish to thank all those in the local authorities (Jinja Municipal Council Officials, Mpumudde Division, Councillors, and LCs etc) in their various capacities for the support they always render to the school.
Most of them participated actively during the time when the School was to host His Excellency the Ambassador of Royal Denmark and the Family of Thyge during the commissioning of the Thyge Memorial Hall on 16th Feb. 2007.
The road was cleared, financial support was rendered and above all they were all here to manage the function. Thanks to the Chairman LC 3, DEO and Town Clerk.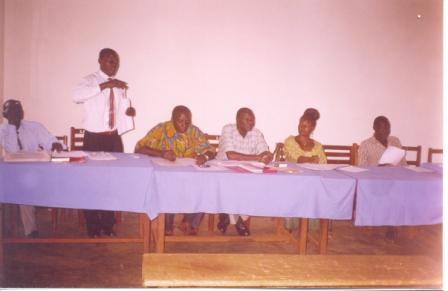 Headmaster Mr. Isooba Patrick Presents School Progress Report
Parents / Guardians
Dear parents / Guardians, thank you very much for all your contributions in one way or another, thank you for the Computer and the Printer.
I would like to give special thanks to the parents, pupils and members of the community, who heeded to our call to participate in the cleaning exercise of the school buildings, prior to the painting exercise under the Thyge Project.
I would like also to give special thanks to Counsellor Mukwaya Paul who, though away on official duty in the Western Uganda, managed to send in a crate of soda to serve the people who volunteered to work.
For your active participation in the exercise, we propose that, the school issues to each one of you, a Certificate of Recognition.
I would therefore wish to appeal to all of you, to respond positively whenever we are called upon to do what we can, within our means, for the good of the school and the children in particular.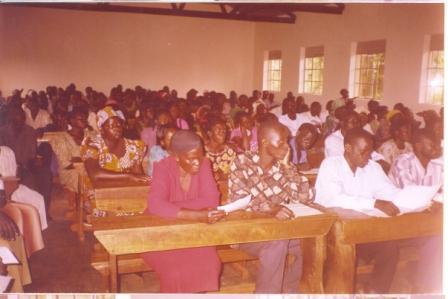 Another Section of Parents Attending the Meeting
Teaching and Non-teaching Staff
I wish to commend both the Teaching and Non-teaching Staff for their efforts to improve the standards of the school.
We are aware, there are some under lying issues, but I trust, together with your efforts and others, the problems will be sorted out.
Achievements
1. Thyge Project:
Under the Thyge Project, the following have been achieved:-
1) Thyge Memorial Hall was commissioned on 16th Feb. 2007 by His Excellency the Ambassador of Royal Denmark, attended by the Thyge Family and friends.
2) The entire school was given a face lift prior to the commissioning;
3) Received a Computer from Mrs Anita Jurs and some books from the Thyge family.
4) Received a Cabinet for the safe custody of the Computer and the books therein.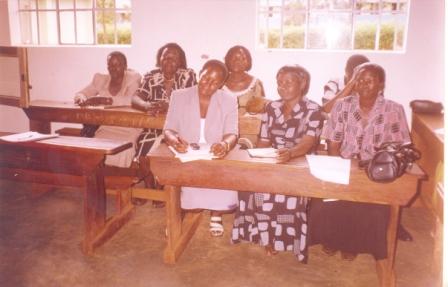 Section of Teachers Attending PTA Annual General Meeting
Note; All these are for the benefits of Teachers, Pupils, Parents and the Community.
The PTA Chairman was mandated by the Thyge family to help the Headmaster to over see and ensure that this is achieved.
It has been agreed that, the Deputy Headmistress in-charge of library
(Mrs Margaret Kamwana) will help in the day to day management
Yesterday I received a mail from the family informing us that, they have already opened up a website http://www.thygesskoleprojekt.dk which is beginning to function;
The main purpose, we were told, is to drum-up support for this project.
I would like to take this opportunity to give special thanks to Mr Guina Nelson
(Jinja coordinator) who connected this school to the Danish Thyge Family without whom, we would not have got this connection.
Through him, I would like to once gain pass our sincere thanks and gratitude to the Family and Mrs Anita Jurs of the Royal Danish Embassy (Country Coordinator).
2. The Computer and Impact Printer were purchased as financed by you the parents / Guardians. I once again thank you very much for your contributions.
3. A Large water tank for harvesting rain water was installed under SFG funds
4. The school compound has been well maintained.
5. The Headmaster's Office got new carpet and curtains.
6. Electricity earth fault which posed a great danger to the children was sorted out; thanks to Mr. Drasi.
7. Water borne toilet system; some repair work was done with funds from the division as a vote from LC 2 Kimaka Parish.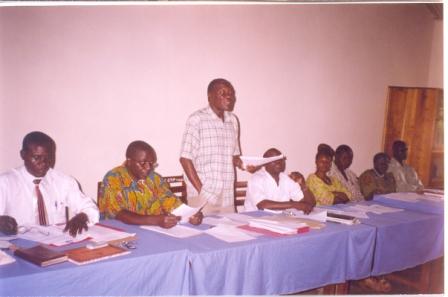 Chairman of PTA Mr. Jonathan Tingo outlines Achievements and Challenges to the Parents
Challenges
- Lack of Essential Text Books for academic improvements (list will be displayed at the notice board)
- Provide Electricity / Water to Teachers' Quarter.
- Acquisition of another Printer (Laser Jet) for administration.
- Acquire Uninterruptible Power Supplies (UPS) for the computers
- Completion of Teachers' house.
- Correction on P1 & P2 classrooms' windows (Lower and replace with metal/glasses and improve on the roof eve).
- Installation of Electricity in class rooms that lacks it.
- Installation of the existing water tank out side the ceiling.
- Repair of water borne toilets and facilities therein.
- Transfer and the repair of the faulty Water tank for harvesting rain water for cleaning purpose.
- To construct Staff Toilet annexe4d to the Main Hall (to serve also for functions)
- Work on a path to Teachers' Quarter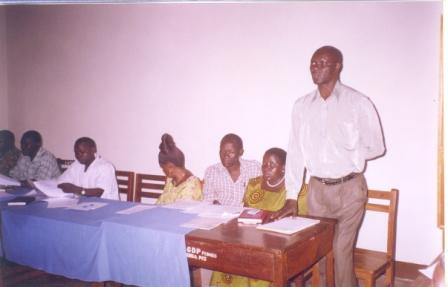 Treasurer of PTA Mr. Jackson Oyet Presents Finance Reports
Appeal
Dear Parents, as you can see that we have big tasks ahead of us; I would like therefore, to appeal to you all, to come out in full force to support this school in all means within our powers.
Let's emulate the example of the Thyge Family and do the little we can, for the good of the school and the children in particular.
More so, we have a challenge of maintaining and where possible, to add on what we have achieved so far; i.e. keeping the school clean and using the computers responsibly to avoid unnecessary break down
On this note I would like to call upon all parents of various skills to volunteer so as to provide solutions to some of these problems:-
Plumbers; to solve the repeated water system breakdown (i.e. main tank, toilets, main supply water valves and taps) and repair the old ground tank for rain water harvest.
Masons; to build a platform for the ground old water tank and carry out any other damaged parts of the school buildings.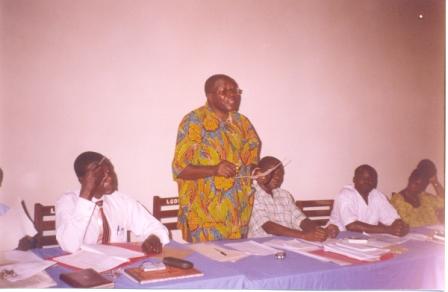 Chairman of SMC Mr.Zakaria Kwizera addresses the Parents
Carpenters; to move the water gutters on the upper classroom block to the required site; carry out repairs on the Toilet Doors and repair furniture and any damaged windows and doors
Computer Experts (IT); to help to build up Data Base for the school and install programmes which can help the school to manage its finances and other relevant record managements.
Where possible provide tuitions for the Teachers to get introduce to Computer operation
Electricians; to wire up the Hall, Classrooms and Teachers quarter.
Laser Jet Printer: We propose that parents once again contribute Shs. 500 per child so as to buy a new printer (Laser Jet) for administration use, while the Impact Printer remains solely for exams printing and other bulk work.
Essential Text Books
While the school, through Top-up and UPE funds will try to secure some essential text books, I would like to appeal to you dear parents, to try and secure at least a copy each for your child for personal use.
The list of which will be displayed on the notice board.
Finally, I appeal to all of you dear parents that all school dues must be paid in the bank as required by Government Procedure for a better finance managements.

(Billede mangler)
Chairman LC 3 of Mpumudde Division Mr. Egessa Ebussa addresses the Parents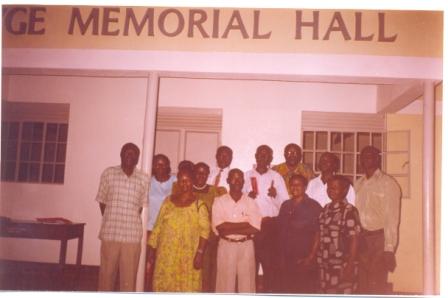 Members of PTA and SMC Committees Pose for Group Photograph In Front of Thyge Memorial Hall after the Meeting

Conclusion
I and the whole PTA Executive wish to express our sincere thanks to you all, for the trust you put in us.
We have continued to try and do what we can do within our means, though with some problems hear and there which I believe some, can be solved collectively with your cooperation and others.
Furthermore, I wish to thank you all, for having turned up for the meeting. Please continue in that manner, each time you are called upon.
Also visit the school regularly and advise where necessary.
Finally, let me take this opportunity to wish all of you fruitful deliberations.
Thank You.
Jonathan Tingo
Chairperson PTA